01/02/2023
"MSB – Financial Green Card": Telling financial stories from a familiar perspective
With the desire to provide a "Financial Green Card" solution for customers to be "passed" easily in financial matters after the COVID-19 epidemic. Chin Media has also MSB to create success for this campaign.
Challenge 
The biggest barrier for the campaign is that the financial plans have long been unfamiliar to the Vietnamese market, the dry, confusing story from the numbers is a big limitation for users to learn and interact with. campaign.
In the market at that time, there were also many Fintech units and banks that were preparing to launch competitive financial solutions in the context that Covid-19 was causing heavy damage to the Vietnamese economy.
Context:
In 2021, Vietnam is one of the countries heavily damaged by the pandemic when the growth rate drops to 2.58%, the lowest in the past 30 years. To return to the growth trajectory, Vietnam needs to implement sustainable, targeted and effective economic recovery programs for both individuals and businesses.
Under the impact of the COVID-19 pandemic, MSB found that Fintech (especially online banking transactions) became important and had a sudden increase. More specifically, the demand for using banking applications on a digital technology platform is growing strongly. In addition, the development of Fintech has been gradually encroaching on the "playing field" – the market share of banks, for MSB this is a worrying thing if it does not catch up with the trend.
Therefore, MSB wants to find a solution to attract, increase brand awareness, and pull users to approach the company's product chain. Here, consumers will have all their questions answered as well as receive many benefits from appropriate financial support packages.
At the end of 2021, MSB is one of the first banks to launch financial support packages for individuals and businesses after covid-19. With the goal of spreading information about financial product packages and attracting as many users and businesses as possible to the online consulting program, MSB has chosen Chin Media as the main partner for this campaign.
Objective:
Business objective: increase sales for new financial product line of MSB.
Marketing objective: to promote more people to be interested in and know about MSB through financial solution packages.
Insight:
Businesses, like individuals, also need strong financial vaccines to return to normal life, thereby owning a green card to return to the economic race.
Creative:
The green card for Covid is a symbol of safety, peace of mind, a certificate to return to a familiar normal life in the eyes of Vietnamese people. Since then, Chin Media has built the image of "Financial Green Card", a card that ensures "financial health" for individuals to take care of their lives and for businesses to return to the economic race.
The familiar "Green Card" image will help people understand and feel more familiar, and at the same time introduce MSB's financial solutions with a close and simple voice.
Implementation:
The campaign is executed in 3 phases:
– Phase 1: Reaching T.A through their pain points, releasing teasers about MSB's support program.
– Phase 2: Launching the webinar program, interacting with T.A, introducing MSB's solutions/products to customer groups.
– Phase 3: Focusing on increasing awareness of MSB's products and stimulating user demand, through product promotion content routes.
Giai đoạn 1: Trigger & Teaser
At the beginning of the campaign, Hero video was released to introduce the launch of the new product package from MSB as well as the accompanying follow-up campaigns to help users understand more and deepen their understanding of the products. financial products.
At the same time, it was a creative start with Social activity – Quiz: Is your finances "GREEN" enough right on MSB's Fanpage, through which the campaign cleverly led users from the social page to the product's landing page by means of Attractive rewards and innovative content of Mini game – Financial Questionnaire to help players self-assess the financial ability of individuals and businesses.
After answering the questions raised from the game, individual / corporate players can receive a set of business assessments from the system and suggest the appropriate financial solution package. Mini games are organized right on the product's landing page to help users increase awareness about these financial product packages.
The brand also takes advantage of seeding community groups along with running media focus on Facebook Reach / Youtube View metrics to reach a large number of users.
Giai đoạn 2: Launching & Engagement
As soon as users are aware of their financial situation and the difficulties they are facing, MSB has a simple and understandable approach through a series of financial talkshows in collaboration with VN Express. Here, financial experts, KOLs, Influencers will in turn share financial solutions and management methods from the most familiar and everyday perspective.
The series of 5 talkshows is also clearly divided for 2 specific target groups with 2 talkshows for personal financial solutions and 3 talkshows for corporate financial solutions. Taking advantage of the wide sharing from VN Express… The program has reached the vast majority of potential customers for MSB's financial products.
Using the 3R (Relevance – Resonance – Reach) formula, Chin Media has selected the most suitable KOLs and Hotpage for MSB's financial campaign. With Macro Influencers: journalist Truong Anh Ngoc, MC Diep Chi, model Bui Thuy Hanh, and 5 Hot pages of related topics, the campaign successfully spread to users and excelled in all KPIs categories. suggest.
In addition to listening to the sharing from the speakers in the webinar, viewers can also interact directly with the program through the accompanying minigames. By participating in the mini game, viewers can recap, check the content / knowledge heard in the live stream.
To do this, the Chin Media team has prepared short and simple multiple choice questions for anyone to participate. These mini games will run right below the comment section of the Livestream or show up as a pop-up to easily attract interaction from users.
Giai đoạn 3: Conversion
The focus of this phase is to help users "Realize all financial plans with superior products from MSB."
When customers have their own orientation and they realize that they need the tools to accomplish that goal. MSB will provide customers with products and services to help customers achieve their target plan.
This phase is completely focused on communicating the product's features and benefits to stimulate users to learn and increase demand for use.
Livestreams and talkshows are also utilized by the brand with short video cuts such as: Best cut – a good sharing moment, Best quote – outstanding statements and quotes, or use infographics to further illustrate the dial. Whether.
Impact:
The hugely successful campaign brought MSB an 88% increase in total discussion on Social Media, MSB also saw an improvement in sentiment index (up from 0.79 to 0.86) thanks to the good effects of the program. Financial green card.
The positive effect is also shown on MSB's Fanpage, when 70% of positive discussions come from the "Financial Green Card" program with 13% being fanpage shares, the rest are comments praising the program. & interested in the products that MSB promotes.
The program spread to more than 15 million users who are individuals at the top of businesses, entrepreneurs, managers, office workers, matching the customer portrait description of the brand. Since then, it has attracted more than 85,000 actual interactions between customers and products from consulting, trial, and registration activities. The main Hero video publication was also a great success with more than 8 million views from users. .
Growth With Us
Các dự án khác
Booking.com is a Dutch online travel agency looking for digital media solutions to increase brand awareness and increase online conversions. Challenge Booking.com is a Dutch online travel agency founded in 1996. Booking.com's goal has always been to bring great experiences with the best quality to its customers. After the impact of the COVID-19 epidemic,…
Traveloka is a leading online travel agency in Southeast Asia, looking for digital media solutions to increase brand awareness and increase online conversion rates. Challenge: Entering the Vietnamese market, Traveloka has difficulty when there are many similar booking/hotel platforms that are popular. Recognizing that barrier, Traveloka focuses on investing in online advertising to optimize market…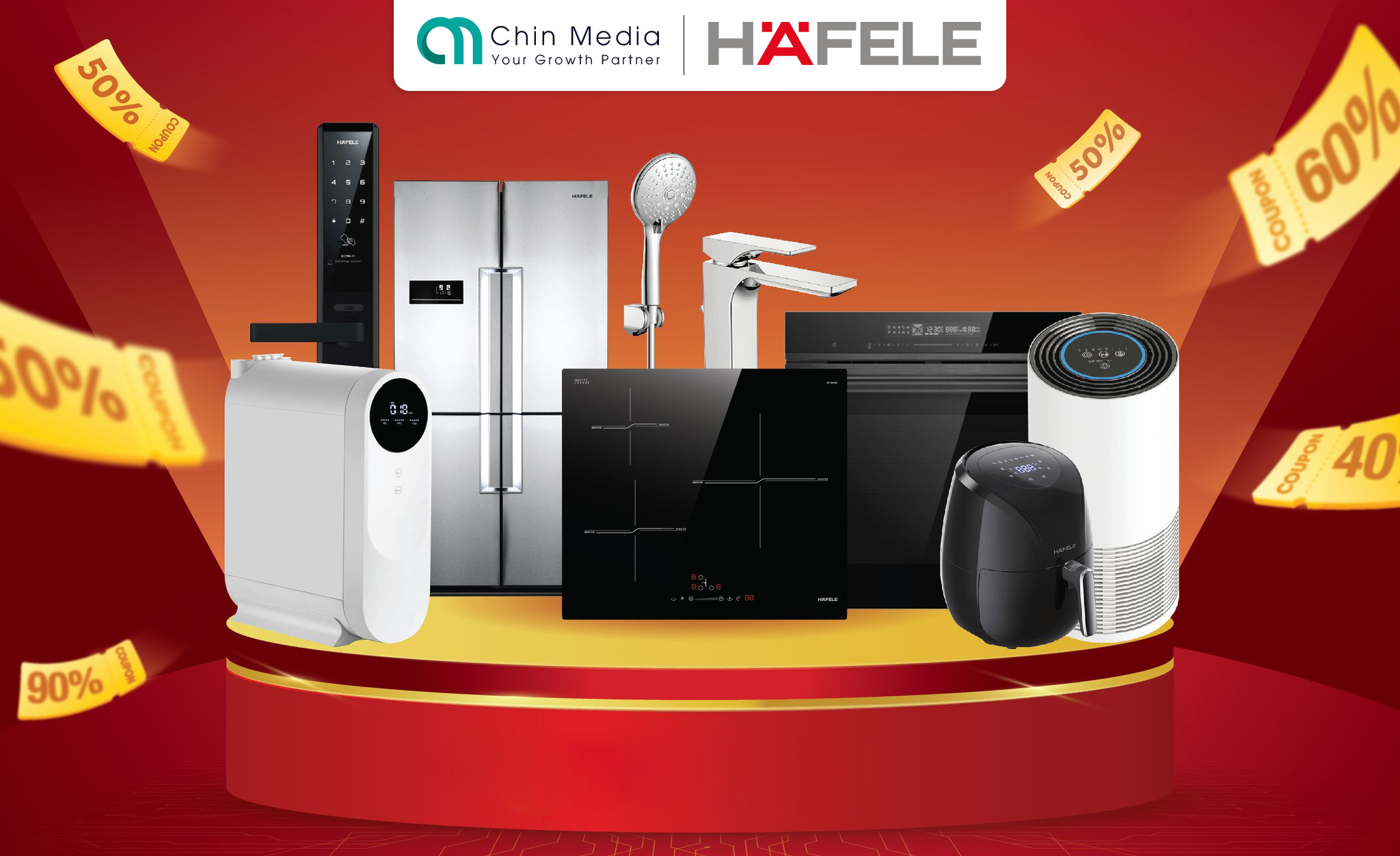 Established in Germany since 1923, Häfele is a world-renowned brand for smart home and project solutions. Chin Media has helped Häfele to strategize with impressive results. Challenge Häfele has been established in Germany since 1923 and specializes in supplying hardware systems, accessories and electronic locking systems with presence in more than 150 countries. In Vietnam,…